You have to admire those folks over at Google, amazing technology after amazing technology, they really are pushing the boundaries.
Try this for size... "
Google Local for Mobile
":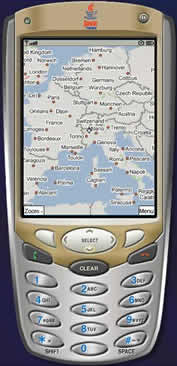 Here's the deal - it's a service that runs through a Java application on a number of mobile phones, giving mobile mapping, route planning and local information.
As with Google's browser-based mapping services, you can view either a map, satellite view or a overlaid combination of the two.
Superimposed on this is local business information, currently, but we can see that with Google's penchant for adding advertising to everything, this may be soon added to.

As Digital Lifestyles have found, though currently this does not interract with the GPS-type features of the GSM protocol, this can be unlocked later. Also, with the number of combined GPS/GSM/GPRS devices coming onto the market (Gizmondo for eaxmple), there is nothing to stop Google from moving into the Navigation market too, but with additional advertising/commerce type features.

Clever stuff!